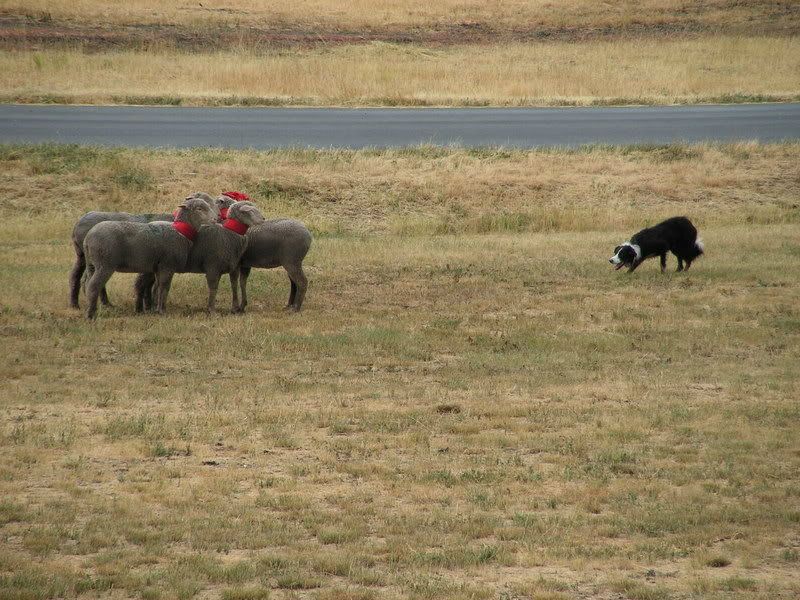 Kell with the 5 collared sheep

ALL PICTURES TAKEN BY JANET ELLIOTT
In 2008 i was invited to Soldier Hollow after Kell and I won the USBCHA national cattle finals. I wrote an article about that expercience, and the event director Mark Peterson published my article in the 2009 SH program.
I was invited again in 2009, and recently was invited for the 2011 trial. My expecience the second year was quite different than the first year so i am sharing the first year here, and i will follow with SH II.
Last year I had the honor of competing in my first Soldier Hollow Classic
Sheepdog Championship. I received an email in May from the event coordinator
Mark Petersen. Mark congratulated me on my National Cattledog Finals win, and
asks if I would like to attend the 2008 Soldier Hollow Classic.
Soldier Hollow is set in beautiful Heber Valley Utah, which was the 2002
venue for the Olympic biathlon. The trial is invitation only, and brings in
handlers from all over the world. The setting is breath taking, the sheep are
the toughest of western range ewes, and the crowds are the biggest of any.

Kell

Would I like to attend? I read the email about 10 times, called my
husband, and then sent the email to some of my friends with a caption that said
"holy cow??!" Competing at Soldier Hollow is a dream of most sheepdog handlers,
and I was incredibly honored to have been asked to attend.
I spent the summer trying to prepare my two dogs and myself so we would not
embarrass ourselves in front of the big names. Fortunately I live near several
of the bigger west coast/range ewe trials, and I have a very supportive husband
who is my number one fan. I also have some amazing friends in the State of
Jefferson who helped me train up. I took both dogs off working cattle, so I
could polish them up, and work on both of our finesse. Ok and our shedding, and
our penning, and our turn back!
For years my parents had wanted to attend a trial I would be competing in.
They had seen me work the dogs on the ranch, but never in a competition. A good
friend told me her father's first trial was watching her at Soldier Hollow, and
that it was the perfect first timer trial.
Soldier Hollow is set up to educate the public about the incredible working
border collie, and the crowds are very appreciative. The incomparable Ray
Crabtree is the announcer, and his smooth voice and knowledge of the dogs and
trialing, leave the crowd with a good understanding of the many finer points of
sheepdog competition.
Labor Day weekend I traveled from my home in Malin Oregon, and my folks
came to watch from Montana. No pressure here, not wanting to look bad in front
of the big names, the crowd, and my parents. GULP!
The venue at Soldier Hollow was unlike any trial I had ever attended. The
officials and staff of Soldier Hollow made you feel like you were truly
attending an Olympic caliber event. If I had to pick one word to some up the
staff and event of Soldier Hollow it would be classy.
I ran both of my dogs on the first day, and lets just say the reputation
that is the Soldier Hollow course and range yearlings are not exaggerated in any
way. The course is not huge with an outrun of 400 yards or so, but the terrain
and sheep are vicious. The sheep are set atop a steep hill, with a valley of
trees, and an old cabin that draws the sheep off of course and into the tall
grass and brush. There were 11 DQ/RT the first day, a high score of 72, and
many 40s, 50s and 60s. I got two scores, but they were pretty tiny.
At Soldier Hollow they take the top five teams from each of the three days,
and those dogs and handlers go on to run in Monday's Grand Championship, which
is a double lift and international shed. After a disappointing first day, I was
happy to know I had a clean slate to try again.
My parents were old pros by day two, and they were explaining the course
and happenings to anybody who had any questions. I only ran Kell on day two,
and we worked well as a team that day. Kell let me get a hold of his pace
better, and I trusted him to do the right things. When I came off of the field
with a 73 the crowd was very appreciative and cheered loudly. Of course the
section my parents were in was even more rowdy as my dad proudly told all in his
section "that was my baby girl!" The 73 held up for third place that day, so
Kell was in the Final. Seeing my name on the huge reader board with some of the
legends of the US sheepdog world is a feeling I will never forget.
My parents were hooked on sheepdog trials. They loved it. My mother told
me she now understood why my husband Martin and I "take those kids (James, four,
and Katy, three) all over the country to compete in these trials!"
I ran Blue on the final day, and the sheep were just as tough as they were
day one. Blue is a very special dog to me, and I knew that this might have been
one of his last trials. Blue is my first border collie, and buying and training
him changed my life. Four years ago Blue had a massive chest infection, and
even after surgery they told me he would not live. When he did live they said he
would never compete again due to scar tissue in his lungs. Blue ran in a trial
less than four months after the surgery, and happily has been proving them wrong
ever since. Blue beat the odds for both of us on Sunday when his 73 was good
enough to take us to the final day. My feet did not hit the ground all day, and
my parents were beaming with pride.
Walking through the crowds at Soldier Hollow is very surreal. People stop
you to shake your hand, pet your dog, and have their picture taken with you.
When the sheep make the panel, pen, or shed the crowd goes wild. Even in the
intense state that is that kind of competition, you can feel the crowd. Of
course you can also feel the crowd when there is complete silence when you miss
a panel.
Sunday night at the handler's supper we drew our names for the run order on
Monday. I admit I about passed out when I drew Kell to run first in my first
ever double lift and international shed. I had really hoped to watch the pros,
and hopefully glean some last minute insight into the double lift.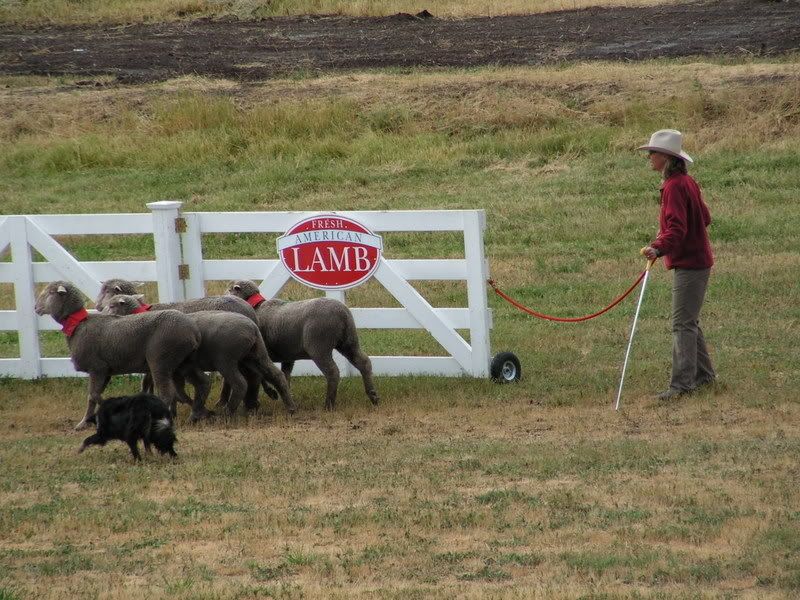 At the pen after the sort

The experienced hands were happy to answer some of my last second questions
the morning I took the field on the final day. The support of the other
handlers was really incredible, and watching their dogs and handling was a high
point for me.
Kell and I did our best, he was on the muscle and I made some rookie
mistakes, but we did not embarrass ourselves. We did not make all of the sheep
through all of the panels, but we saved our pride in the shed ring.
My husband Martin and I run our sheep at home on irrigated hay pasture in
the spring and summer, and alfalfa stubble during the fall. We manage our grass
by using electric net to graze the sheep. This requires moving net and sheep
several times a week for most of the year. When I want to train the older dogs
I can not bring all of the sheep into the corral to sort out a few to work, it
is too stressful to the sheep, and not practical. Instead I go into a group of
100-200 sheep and sort out 3-5 yearlings to work. I have mostly used Kell to do
this sort, and when we came into the shed ring I told myself "this is just like
home". Well just like home with thousands of people and only a few sheep. Gulp!
As I worked the shed I realized that I had one uncollared sheep left. Rule
number one in the international shed is to try and not leave just one sheep,
which will be desperate leaving on her own, and things usually go wrong. I
could hear my heart beating loudly in my ears, and the crowd was stone quiet. I
did not have a stellar run, but I REALLY wanted to get that shed. I let off of
the pressure and let the uncollared sheep head towards the rest of the
uncollared sheep just outside the ring. As I let the uncollared sheep go a
collared sheep suddenly bolted with it. The two were side by side as I called
Kell to come in-between them. Somehow Kell got between the two sheep and the
collared ewe came to a screeching halt as her buddy ran to the other sheep. Now
I was holding my breath and I felt a little dizzy, nobody moved as Kell and the
collared sheep stood nose to nose. I turned quietly and asked Kell to walk up;
the sheep seemed to weigh her option for a second or two, and then she rejoined
the collared sheep so I could attempt the pen. The crowd went crazy, and I was
so proud of Kell. We went on to get the pen, and that last ten minutes was
something I will never forget.
When I came off of the field Scott Glen stopped to congratulate me on the
save in the shed ring. Scott is a former National Sheepdog Champion, and one of
the premier handlers in North America. I asked Scott if he had any advice for
what I could do better on Blue's run later in the day. Scott looked down
thoughtfully and in his Canadian accent said, "you might try and make some more
sheep though the panels". Humor is always good at sheepdog trials.
Blue and I drew up sixth and to be fair to Blue I was still pretty
distracted by my first run. Blue was off, and I really did not concentrate
well. I was proud of him all the same, and after all that we have been through
I felt so blessed to have been able to run him at Soldier Hollow.
Watching Scott Glen and Pleat's winning run was the most flawless work I
have ever seen. Getting to know some of the well-known handlers from all over
the country, and seeing them work, was really a treat. It was very special to
me to have my parents there to see and understand why I am so passionate about
the dogs. I was very proud of both of the dogs, especially Kell for the special
year that he carried me through.
Competing at Soldier Hollow in 2008 was the high light of my sheepdog
career, and I hope to be able to compete again there next year. If I am ever
lucky enough to make it the final day again, maybe I can even make a few more
sheep through the panels.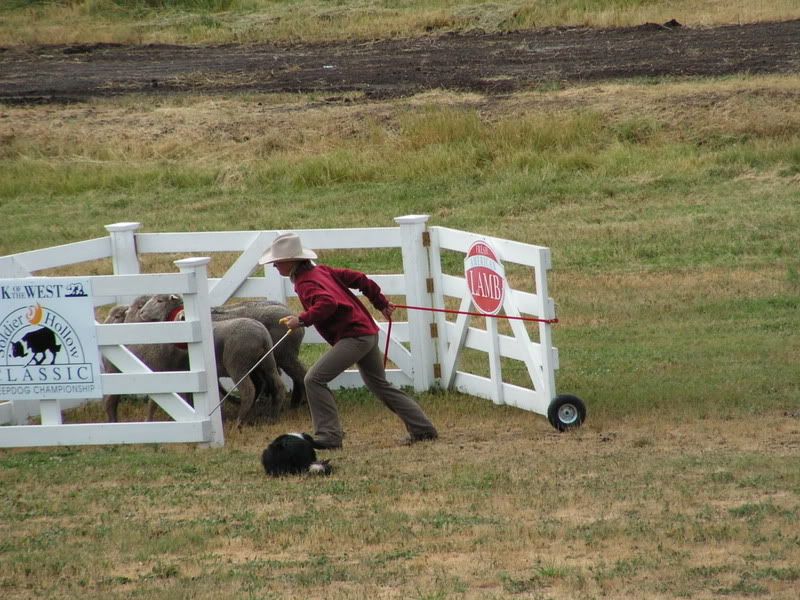 They are in!!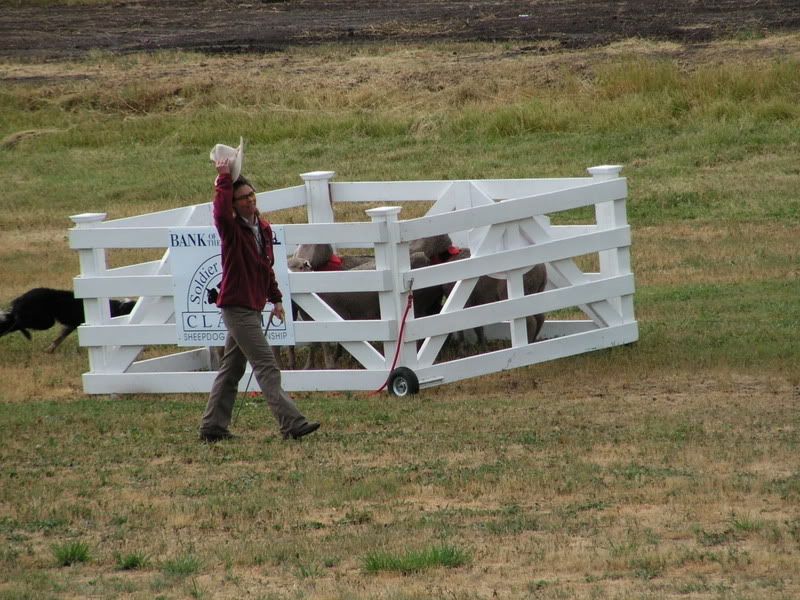 One of the best feeling ever :)